Happy 8th Anniversary Altenew!
Thank you so much Altenew for all the great inspiration and Happy Anniversary. So excited that you got here from Terry Koszler's page. 
I am always trying to do better with every aspect of my cardmaking and Altenew has been a big part of my growth. The card I am sharing today is larger than what I usually do, but I need the "real estate" to get my vision on paper!
Favorites!
For this card I wanted to incorporate some of my favorite stamps together.
The Craft Your Life-Feathered Lillies has become my favorite stamp and die set. I love water coloring this set and the Wild Flora Stamp and Die Set is not far behind. Putting them together was a no brainer for me. I used the Garden Trellis Cover Die to create my background. I cut two for this card.
The Flowers
These lovely, stamped flowers were painted using both the Altenew 36 Pan Watercolor Set and the Altenew 24 Pan Watercolor Set. 
The Sentiment
For the sentiment I embossed it in Obsidian Black Ink on the Fine Frames Diamond and turned it sideways. I used the Midnight Violet ink very gently on the edges. Just for a hint of color on the frame.
Be Sure to Enter the Giveaway!
Don't forget to head on over to Natasha Davies page and check out her projects.
Thank You Altenew!
For allowing me to help celebrate your 8th Anniversary! I am so happy to be a part of the Altenew Family!
Rachael
---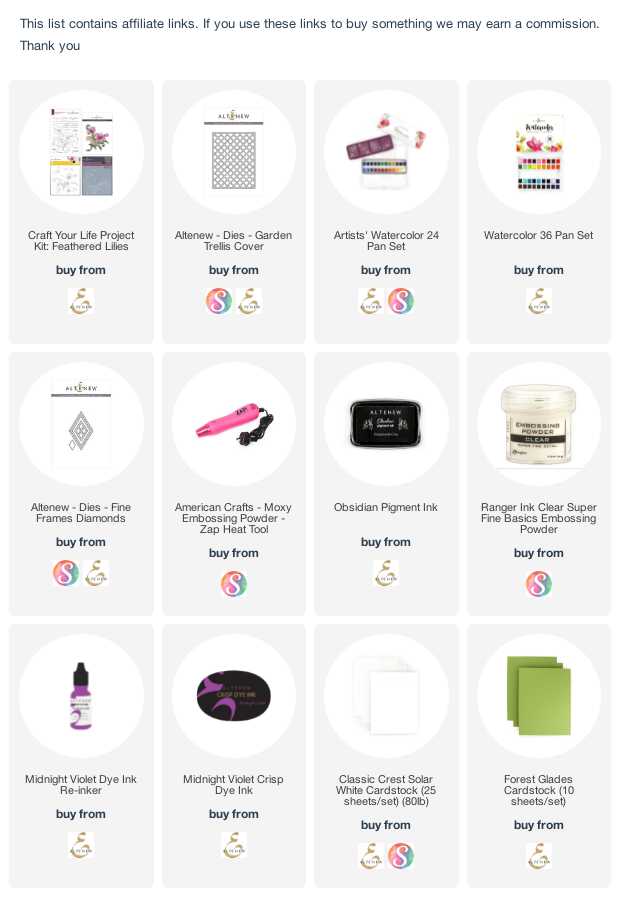 ---
Giveaway!
Be sure to leave comments by 4/15/2022 for a chance to win one of 50 prizes! To make the hop more exciting, start your comment with "Hi from (city or country where you're from)!" 50 winners will be chosen at random from the comments left on any of the blogs listed below and will be announced on the Altenew Card Blog on 4/21/2022.
Over $2,000 in total prizes! Altenew is giving away a $80 Gift Certificate to 5 lucky winners and one Altenew Academy Online Class($8.95 value) to 15 lucky winners. There are also 26 awesome companies/crafty friends who are celebrating with us, and they are offering the following prizes:
---
---