Hey Crafty Friends,
Today's new release from Altenew has some great new products to get your inspirational juices flowing!
The Book Engravings Stamp and Die Bundle is  going on my favorites list! The flowers and greenery are super easy to work with. I hope you visited here after visiting Amber Raines Davis post!
The Details:
For my blog hop projects today, I am using the outline stamps and dies as a focal point for watercoloring with the 36 Pan Watercolor set. 
1st Card
On the first card I used the smaller outline flower from the set on watercolor paper embossed with the Mixed Media Ink sets from Altenew. The Shutter Cover Die helped me create the backgound for this card by using it as a stencil also.
For this project, I also used the Mod Vases Stencil to create my vase for the smaller size flowers and leaves. 
For the final touch on this card I added some shine using a glitter pen to add some shine. 
2nd Card:
On the second card, I used the same embossing and painting technique but focused on the larger flowers and leaves.
However, for this card I used the Garden Trellis Die for the background and mounted it on a piece of recycleable cardstock.  
I created a matching envelope for this card using the Envelope Art Set.
Thanks so much for stopping by today to spend some time with me.
This a  beautiful release from Altenew, and I'm sure you'll find some great prducts.
Scroll all the way to the bottom for a bonus card!
Have a great day, and be sure to leave a comment! before you visit Maryam Perez
Rachael
Giveaway Prizes
$300 in total prizes! To celebrate this release, Altenew is giving away a $50 gift certificate to 2 lucky winners and a $20 gift certificate to 10 winners! Please leave a comment on the Altenew Card Blog and/or each designer's blog post on the blog hop list below by 03/15/2021 for a chance to win. Altenew will draw 12 random winners from the comments left on each stop of this blog hop and announce the winners on the Altenew Winners Page on 03/17/2021.
---
---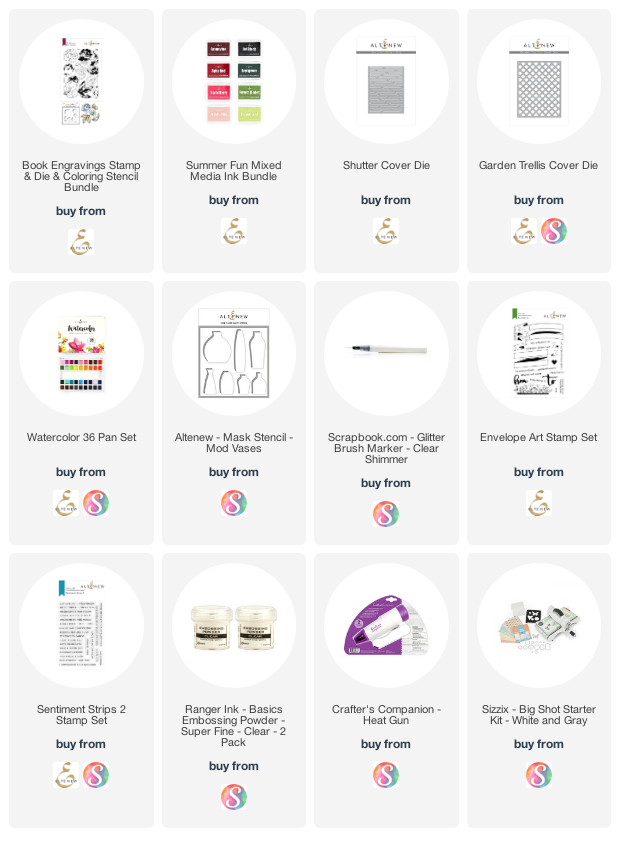 Bonus Card
This was such a fun card to create using the Shine Like a Diamond  stamp set for the backgrond and sintiment with the Aurora Borealis Washi Tape as a feature!